Vehicle wraps are one of the most popular forms of advertising.  They wrap around the whole vehicle, making your advertising display visible on each side of the car or truck. Cenla Signs specializes in making these full vehicle wraps and graphics. We have made hundreds of these for businesses all around Cenla and have the experience to do it right. You can get increased exposure to large audiences by using vehicle wraps. This kind of advertising is a true attention grabber. 
At Cenla Signs in Alexandria, we use advanced technology and high-quality materials when printing vehicle wraps. We produce vibrant and durable full vehicle graphics that maintain their shine and are not discolored by the sun or other atmospheric exposure.
Full vehicle wraps can be difficult to install. At Cenla Signs, we have experienced installers that know how to properly put on car graphics. We understand the importance of this advertising tool and advise our customers about how we design the vehicle wrap, as well as what type to choose so they can achieve the maximum effect. At Cenla Signs, we produce custom, full vehicle wraps for individual and multiple vehicle fleets. We guarantee that your experience with us will be great and you will love your vehicle graphics. For more information on vehicle wraps, visit our FAQ page or stop by Cenla Signs now in Alexandria and talk to our sign managers about vehicle graphics, materials and usage. We will be happy to answer all of your questions related to car graphics.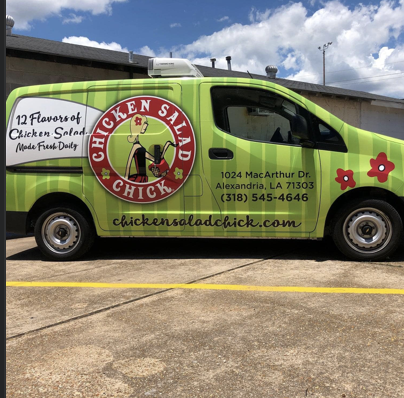 They are driving billboards! By getting your vehicle wrapped, you will serve two purposes for your business. While you drive to a location for service, you will attract potential customers during transit. It is estimated to increase your business exposure more affordably than any other ways of advertisement.